Electro Chemical Pickling Device- X Brush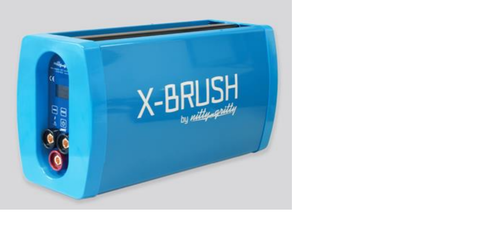 Electro Chemical Pickling Device- X Brush
Product Description
X-BRUSHis the strongest pickling device on the market that weights less thejust10Kg. Thanks to the inverter technologyX-BRUSHis strong, safe, and light. Finally, you can have your weld cleaner every time and everywhere you need it, without the burden of moving a 30kg device.Thanks to its 100AmpX-BRUSHcan easily clean any type of welding (TIG, MIG, ARC, ELECTRODE) on any sheet thickness. In order to be more productive, you can also use two torches at the same time. This is very useful if you need to clean welds on a large product.
These machines also have some important features:-
-The machine performsimmediately with eco-friendlypicklingpassivationand cleaning solution on TIG, Pulsed arc MIG, Laser resistance, Orbital, Plasma, and Tack Weld joints, etc,
-It's faster cleaner safe&does not leave any rings and provides complete safetyto the operator.
-Thebrushis given to reach less accessible points more easily.
-Thesemachinesperform marking and localized electric erosion (Black/White marking)ofstainless steel.